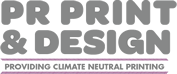 Address:
268 Nuneaton Street
Glasgow
G40 3DX
Tel:

0141 556 5414

Website: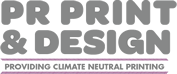 Our ethos at PR Print and Design for the past 29 years is to connect high quality design with reliable in-house production effectively getting a low cost solution for our clients to satisfy their design and print requirements.
Just call us to discuss your potential projects and we would be delight to give you impartial advice.
Design
Graphic design is what we do. It's what we love. Design involves a creative and systematic plan to solve a problem or achieve certain objectives, using images, symbols & the written word. We can help you reach your target audience.
Print
After 27 years of being in the print business we feel we are in a position to advise you on how to get the best solution for your budget, while ensuring a high quality and environmentally sound product – just ask.
Climate Neutral
The use of Climate Neutral Print products offers companies the opportunity to become active in climate protection quickly and easily. Make your contribution to climate protection – we are your partner.