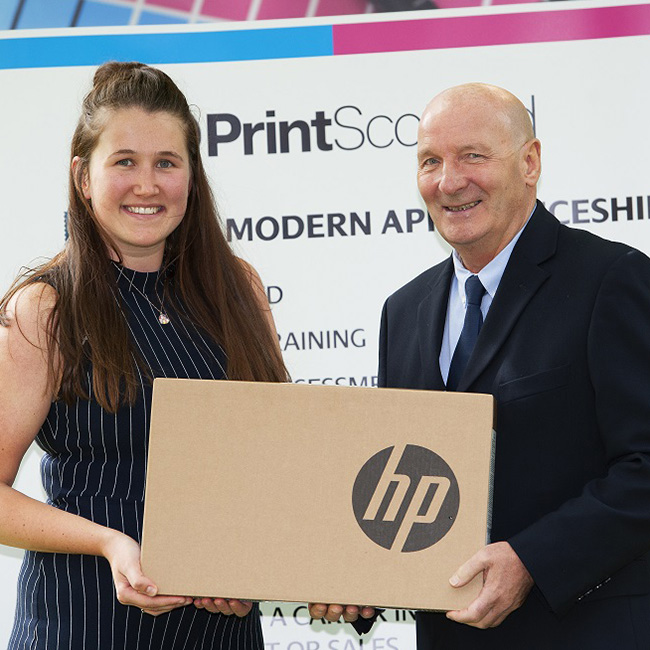 Louise Docherty, 26, has won the accolade of Print Administration Apprentice of the year, at the 2019 Print Scotland Apprentice of the Year awards held in Glasgow earlier this month.
A graduate in cellular biology from Stirling University before finding her niche as a printing trade apprentice. She has worked for three years at Bell & Bain, one of Scotland's largest and oldest independent UK books, journal printers and binders and is ambitious to develop her career in the print industry. She said:
"After graduating, I followed the obvious path my degree led to by joining the food industry, but it did not make me happy. I made my move into the print industry and believe I have really found the right career. There is a bright future for the print industry in Scotland and I am keen to continue adding to my skills."
Louise grew up in Bishopbriggs, in the north of Glasgow and attended Bishopbriggs Academy. Away from work, she is a keen fan of rugby, "watching, not playing", she insists.
The award was sponsored by Print Scotland and Louise was rewarded with a Samsung tablet and £100 of Amazon vouchers.
Print Scotland, the trade association and voice of Scotland's graphic communication industry has been holding holds its Scottish Print Apprentice of the Year award for the last four years. The occasion is part of its mission to represent the Scottish print community and to highlight the profile of future leaders of the industry.
James Vallance, training consultant at Print Scotland said: "Louise's sterling efforts in getting to grips with the challenges of a rewarding career in print administration have been rightly rewarded.
"Her family and friends can be very proud of her achievements. The print industry in Scotland is demonstrating slow but steady signs of growth year-on-year, and nowhere shows this more than in apprenticeships. Already this year our members have taken on 20% more apprentices than last year."