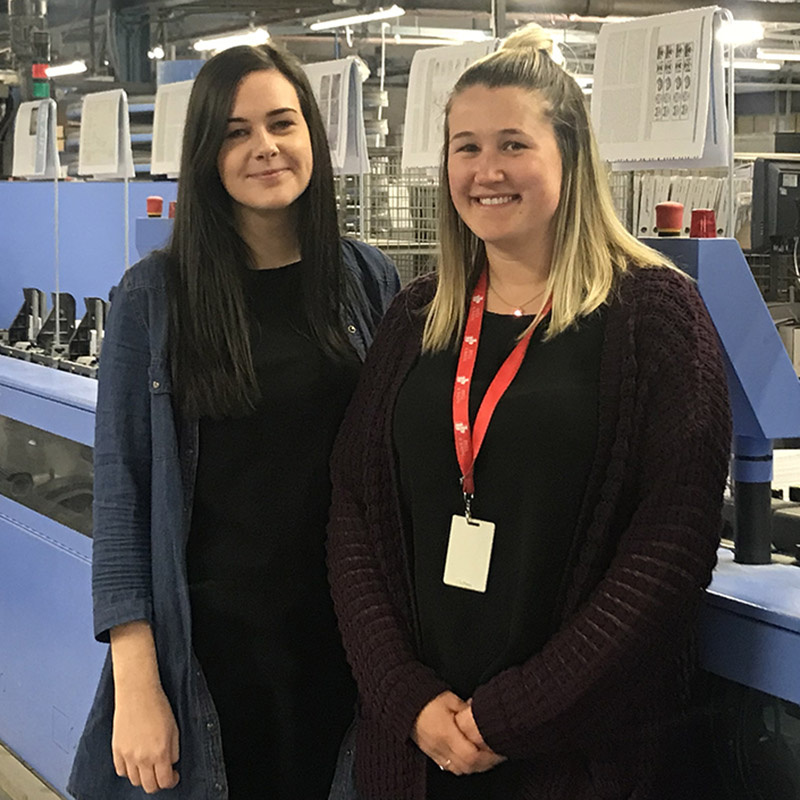 Print Scotland, the trade association and voice of Scotland's print and graphics industry, has been encouraging its members to broadcast the availability of modern apprenticeship opportunities. Amongst a number of success stories are those of two new apprentices at Bell & Bain, one of the UK's largest independent book and journal printers and binders.
The Glasgow-based company, which was founded in 1831, is now one of the country's oldest independent operators. The venerable firm has recently taken on Fiona Buchanan and Louise Docherty, daughter of Managing Director, Stephen Docherty, as Modern Apprentices.
Fiona, 23, from Glasgow's South Side, has a degree in History from the University of Strathclyde, but after completing her degree, felt she wanted to try something she didn't know anything about.
She said:
"When I graduated, I didn't really know what I wanted to do. I didn't have a degree like medicine, where the job is waiting for you, so I expressed an interest in learning about the print industry through a family connection, and was delighted to be asked by one of the managers at Bell & Bain to come in for a chat.

At first I was a bit daunted by the technical side of it, but I set about learning as much as I could, and before too long I was offered an apprenticeship. I'm loving the experience and want to understand, and maybe even master as many aspects of the print trade as possible."
Louise, 25, from Bishopbriggs, studied Cell Biology, earning a degree at the University of Stirling, and had planned a career in genetic counselling. But her father, Stephen, was so impressed by her graduation ceremony that he persuaded her to come and work in the business.
She said:
"I've got some big shoes to fill, because my brother was here last year, and he won the Apprentice of the Year Award, so I'm eager to show I can learn. The opportunity has arisen for me to manage our Estimating & Costing Department, as well as stock control of paper, which is a huge part of the business. I am hoping that, together with my small team, I can grow it into an outstandingly efficient function of the Bell & Bain operation.

I think entering a print industry apprenticeship is the best decision I've ever made and I'm looking forward to learning as much as I can of the whole print and finishing business, especially the production side. I want to be in a position where I can, one day, surpass my Dad. That's the ambition, anyway."
For more information, please contact Garry Richmond, Director of PrintScotland.